I now find myself having lived a boat-life on lockdown for two months already! It feels like much longer than only 1 month since I last wrote on here, and I feel like my life in Lagos is a very murky memory right now!
Life on the canal has now become my norm and we three seem to have fallen into quite a comfortable rhythm. I teach Mon-Fri and run my private sessions in the evenings or weekends, also catching up with assesments, emails and my Master's across the days and hours, my mum works online also and schedules her meetings ideally around my live lessons, and Barry (my stepdad) has been avidly working on repairs, modifications, and improvements to our living space (their boat, AreandAre).
My working life has experienced a huge overhaul, to enable both myself, my team, and my students, to adapt and assimilate as quickly as possible into an online learning routine. And dare I say it, it seems to have worked!
"Just a quick note in this Teachers' Appreciation Week, to say that we celebrate and appreciate your indefatigable zeal and all your hard work to bring out the best in XXX. Thank you indeed!"
It has however had a big impact on me, with such a massive increase on the amount of hours spent before a screen, and I have had many headaches as a result. It also means that I have had little to no time/energy left in the days, to go out and be able to really enjoy the sumptuous surroundings I find myself in.
Given that I pride myself in my intuitive skills with children, finding ways to really understand and see them, and to instill as much 'fun' and intrinsic motivation within my tutelage, there has also been the fascinating (yet very time-consming) opportunity to learn how to incorporate such things into the dryness that can be a zoom lesson….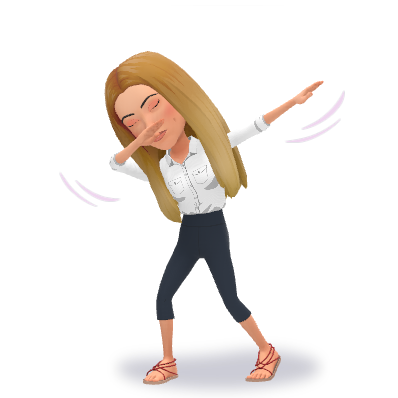 (Including teaching myself how to make my avatar, and in particular one that knows how to "Do the Dab". Much to the kids' delight!).
As per the school's requirement, I am always in the lessons 5 minutes ahead of the scheduled time, to allow for internet issues and the acceptance of children in from the waiting room. I therefore take this opportunity to play different styles of music especially from my beloved Putamayo series or I will play some of the fantastic concerts currently available from the Arte Concert par Jour series . It was a true pleasure to watch the children soaking up the sounds of Agnes Obel today, and last week, for a feel-good-Friday, they had a great energy uplift whilst enjoying a bit of Uptown funk, whilst watching 'old-style' dancers!
But, there needs to be more to my life than just working though, right? Right! Though to be honest, right now it feels like there isn't much!
With the reduction in air traffic, there is a wonderful opportunity to hear more and more birdsong. This is quite literally music to my ears, even when the dawn chorus awakens me at around 4/5am each day. We were even able to hear and later spot (thanks to binoculars and Barry's keen photographer eye) a woodpecker tip-tapping away up in the tall trees. Likewise, the reduced movement on the waters has meant that we have gotten to 'know' a family of ducks/ducklings. They have become so used to our presence that mother duck now ambles up onto the towpath if we have not yet noticed their arrival on the water and will waddle her way over to us. I have had much fun chattering away to them all, feeding them bird seed, crushed pecans, and even the occasional chocolate digestive!
The daily exercise quota has been interesting to attempt for me, to say the least. I greatly enjoy yoga and pilates, though when the weather has been cold (which for my temperament is basically anything lower than 20C….almost every day whilst I have been here!), it has meant that being outside hasn't been much to my fancy. Consequently, here and there I have tried to do it onboard, though I do jump at that once in a blue moon when I can do it outside, before the cold returns!
We have been very blessed with location, as we are treated to stunning sunsets each night, Venus shines brightly from above, and my elders on board have had many enjoyable evenings looking out for and watching meteor showers and passing satellites. (I tried on one night….it was my 'first' time out in the evening, and I was somewhat chilled to the bone!!)
(Considering I get cold in Lagos, it is no wonder I am still taking time to adjust to the climate here. My Lagosian friends are all highly-amused by this situation for me).
Meanwhile, many people have been stating how bored they have become on lockdown and how little there is to do. Work and my studies keep my mind occupied most of the time, yet in between all of this, I have been really quite fine. I miss my social aspect of life, as I am very much an in-person friend and not so keen on phone-calls, let alone even more screen time. But otherwise, I love the slowed pace around, and there's been a plethora of things going on here in our little world….
One afternoon, when I had managed to unearth myself from the laptop, and as I was finally ready to take an hour or two's brain-break, we heard a SPLASH and a MOO. I kid you not. In the field opposite to our humble abode, some very inquisitive and somewhat stupid (haha) cows had arrived a week or two earlier. They have been pushing themselves to get a closer and closer look at us locked down creatures, (realistically, they have simply been wanting to get closer to the water's edge for a good drink). Anyhow, there I was, happily about to dive into a delicious Punk IPA (some of Brighton's finest), and the next thing I know, I am haring down the canal path on a pushbike, as we begin the "Cow in the Canal rescue". And lo and behold, one became two. "Daisy" fell in right after she looked to see why "Gertie" was in the water. What a daft ….
The rescue mission ended up lasting well over an hour, if not two, and one thing we definitely take away from the experience – our neighbour will never be crowned a cowboy again.
For some of the [infrequent] less bitter evenings, I have been able to join the canal crew for a bit of al-fresco dining; admittedly my feet are basically within the fire. I even tried my hand at a bit of tree-climbing recently (gotta blow these screen-waves out of my brain somehow).
The newly bought brazier has enabled us to have home-cooked fish and chips on quite a regular basis now, and even the odd pineapple or strawberry fritter! Between us, we have also devised a way to create delicious crisps from the veg peelings – nom nom!
Happily, I have been on a few walks along the towpath. Though nowhere near enough, to be honest, in comparison with the number of days I have been aboard. But then the cold has been causing a return of chronic pain in my knee, coupled with all the seated time. That said, there was no way I was going to miss it when my sister came to drop off our mail, despite me feeling like Jack Frost was biting at every inch of me! We kept our 2m social distancing rule though, so I still haven't been able to give my big sis a hug yet. It is quite a strange sensation indeed.
We play card games most evenings, or watch movies now and again, we read our books, we have played the Lagos version of Monopoly (which I can happily say I thrashed the others at), and I even managed to convince the others to join in the Tilly Beresford's makeup challenge haha. Admittedly, this could have been done with a bit of better planning – my stepdad's arms were not quite as convincing as being my own, as Tilly's husband's, given that they shared a shirt for their attempt! I have re-braided my mum's hair, and for a tiny glimmer of glam, I tried, and failed, to apply false nails. (I woke up the next morning with all but 1 of them inside the bed, digging into my back, arms and legs!)
I still have no real sense of idea when I will be flying 'home' to my life before lockdown, nor of course what this life will now entail when I get back. Some of my friends there have now left for good, as a result of the crash of oil prices and the fears for health-care services amongst other reasons. My home has been mostly empty during this time, and my cats have apparently taken over the bar.
I daresay that when I do eventually get back, they will wonder who on earth I am! I feel very blessed for all this time with my mum though, and to be in such a stunning area; what a joy. Life as we knew it is over, and life as we don't know it, is now. I see that China has gone onto a second wave of lockdown yet here in the UK, the prime minister is easing the situation more and more, just so long as we "stay alert". Well, I am not. I am screen-tired and getting a little bit spaced out to be honest! But, thankfully, and gratefully, I am safe and well. I am also certain that by the time I depart my water gypsy life, I shall be homesick for this bubble indeed.